Shellrock News - May - Around the Benefice
Posted: Sun, 1 May, 2022 (3 weeks ago) - by Colin
St James, Great Ellingham
We are looking forward to the return of the Christian Aid Big Breakfast on Saturday 21st May, from 9am.  Breakfast to suit all requirements will be available in return for a donation towards the charity.  Christian Aid is a charity that works across the world, seeking to eradicate poverty by supporting projects like water pumps, skills training, education and health information to improve the lives of the most vulnerable.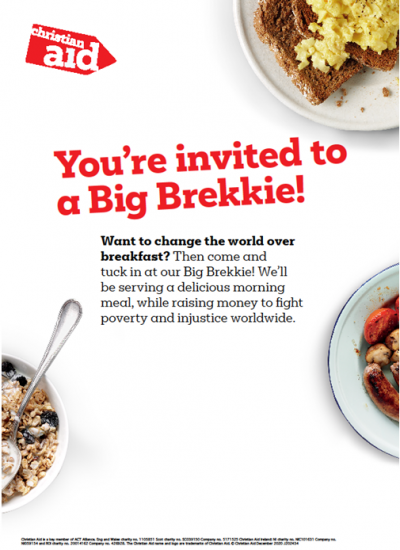 The Breakfast menu will consist of bacon and sausages (from Tony Perkins Butchers), plus a range of cereals, toast and fruit.  Donations are hugely appreciated (big or small) and it should be possible to take contactless donations, technology permitting….  This was a great event in 2019 and we look forward to welcoming you all.
Another fund-raising event for Christian Aid is a coffee morning that the Methodist Church is holding on Thursday 5th May between 10am and 11am.
The Good Friday Walk of Witness was a bright and sunny day as a group of us headed from the village down Penhill Road and on towards Rocklands.  A short refreshment stop at the shop was welcome before we continued onto Rockland All Saints church.
On Easter Sunday, a congregation of 25 gathered to remember the reason for our faith; the resurrection of Jesus.  In a sermon from Dale, peppered with amusing anecdotes, he reminded us that He died on the cross to restore and revive us.
KD
Rockland St Peter
We managed to have our traditional Agape Meal service on Maundy Thursday 14th April. It was a huge success. It was a chance for everyone to get together and share food and wine to remember the Last Supper, when Jesus shared food with his Disciples. 
We now have the go ahead to demolish the wall that has partially collapsed. It will be replaced with a post and rail fence.
We will have a Family Service on Sunday May 1st at 10-30
Looking forward to June and the Queen's Jubilee celebrations. 
We will have a special Thanksgiving Service on Sunday at 10-30, with the Benefice Choir. This is Rockland St. Peter's contribution to the Platinum Jubilee.
JB
Shropham with Snetterton
The Easter Day Service at Shropham included a very well attended baptism.  All in there were some 140 adults and 40 children in church.
Half of the NW window of the church has been removed for repair.  A part of the top of the font which came loose but luckily did not fall and break is due to be repaired.
The next service is on 29th May, BCP Holy Communion.
DN
St Peter, Little Ellingham
Despite the efforts of a bird (we think) our church looked wonderful for the Easter service.  The flower arrangements were lovingly created by an enthusiastic group of women (yes not a man in sight) which bodes well for our forthcoming Flower Festival in June as part of the Queen's Jubilee celebrations.
The week before, we held our Palm Sunday service which was almost scuppered by several key people becoming ill with Covid.  Sadly the choir were unable to sing their repertoire of songs which will be held over for another time.
The Walsingham Pilgrims visited our village for the first time since Covid struck.  Normally they would have stayed overnight in the village Hall but due to Covid they decided to return to Wymondham each night.  We provided refreshments prior to their holding an informal service in the church.  We hope next year the situation will be much improved and normal service resumed.
Another meeting is scheduled for this month to discuss the merger of our benefice with the Hingham and High Oaks benefice.  It is still too early to say how much progress has been made so hopefully more will be forthcoming at this meeting.
CT
Rockland All Saints
Spring has now arrived and we have all enjoyed some lovely weather this Easter, for a change!
During April, we held two services, both over the Easter period. On Good Friday we welcomed the weary team who had completed the Walk of Witness from St James' in Gt Ellingham across the back (and somewhat circuitous) route and we had a meaningful reflective service as we remembered what happened on that day in Jerusalem about two thousand years ago. But, as we know, on the third day He rose again and on Easter Day the service was joyful and looking forward…. both services were well attended and went very well.
We are pleased to announce that Barbara's Day is back and will be held as usual at Cheyney (in Low Lane opposite Rocklands School) on May 18th from 10am to 3pm.  Covid has prevented this event from taking place for the last two years so we are delighted it can happen again this year!  We will be offering the usual Ploughman's lunches with salads and desserts and the usual array of refreshments, all homemade!  There will also be a plant stall, bric-a-brac, books, cakes and home made jams etc as well as a raffle.  (Please note that we do not have facilities for card payments so sorry, it is cash only!)  As always, we hope to welcome the children from the school during the day….attached is a picture from the archives with some children who are now very much more grown up than when the photo was taken!  Do you recognise anyone (apart from Julie Dekker, of course!)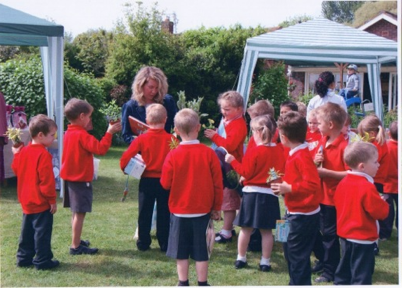 We look forward to seeing you very soon – in the meantime, as always, stay safe!
CJ
Foodbank
We continue to supply the Thetford Foodbank with a good supply of items.  Thetford is the main warehouse for Attleborough and Watton.  It appears that nationally the situation is becoming problematic in that more people are needing to access the Foodbank's services whilst donations are decreasing.  So thank you to everyone who continues to support this vital service.
Back to top of page