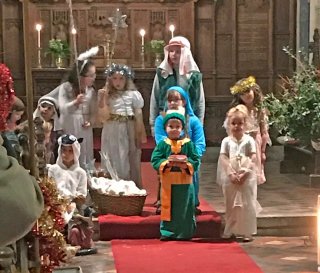 Welcome to St Peter & St Paul's Church!
We have developed a core of children in the village to come to church on special occasions – primarily Christmas and Easter, and also occasional Mothering Sunday services and Harvest Festivals over the years. Our aim is to try to encourage this participation by young children in order to nurture a new generation of churchgoers. It is not an easy task in today's world where so many secular activities happen on Sundays but it is a worthwhile challenge.
On the left, a photograph of the nativity scene at last year's carol service.